---
CORNMEAL MILLING
The Stockdale Mill produced its own cornmeal.
Cornmeal processing involves 5 basic steps:
* shelling corn from the cob
* screening and fanning the grain
* grinding the grain on stone buhrs
* sifting out the hulls and oversized particles
* packaging
All equipment was run by water power.
The cornmeal equipment was removed in 1949.
The buhrs used were 18 inch diameter, 5 inch thick stones.
These stones were much smaller that the original flour milling stones. The flour milling millstones were about 4 feet across and required dressing by a skilled stone-cutter. Installing and maintaining millstones were a major expense to the mill operator.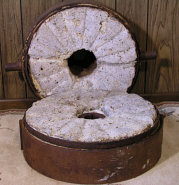 Cornmeal buhrs (removed 1949)
CORNMEAL AVAILABLE
| | |
| --- | --- |
| | Volunteers of the Stockdale Mill Foundation installed cornmeal processing equipment during the Spring of 2004. Cornmeal is stone-ground and produced by water power. Visitors will may purchase freshly packaged cornmeal. |